Many hear the story of the two lovers. If you were to ask people to tell you, they go into great detail with the story. It sounds too much like romeo & Juliet. What if I told you that story is modern invention from a Spaniard and the original stories to those two mountains are different along with evidence of these mountains in codices?
The names Iztaccihuatl (White Woman) & Popocatepetl (Smoking Mountain) is what most people know right about the mountains even though these deities were worshiped (along with the other mountains) long before the arrival of the Spanish and which having pilgrimages even today. Legends have that they can appear in human form. Popocatepetl is known as "Don Goyo" and Iztaccihuatl as "Rosita" to Nahuas from the Santiago Xalitzintla community and which many contemporary Nahuas give offerings and blessing to this day.
The oldest depiction that is known is an image from the Codex Zouche-Nuttall on folio 11 which sadly is overlooked.
Don't forget that Nahuas from Morelos have a legend about them which is called Yeyi Secuistli or in English as '3 Volcanoes' as told by Nahuatl speaker Martin Mendez Huaxcuatitla from Tetelcingo, Morelos and recorded by Richard Pittman. It's a story that involves Iztaccihuatl and Popocatepetl with a third party member called Secuistli Keckotoktik (headless volcano. Known as Nevado de Toluca) in which Popocatepetl and Secuistli Keckotoktik fight.
You can read the story in Nahuatl and English here:
http://www-01.sil.org/~tuggyd/Tetel/F003i-TresVolcanes-nhg.htm
Which follows another Nahuatl story that is similar called Yeja On Volcan Onohuisoc Ihuan Sen Tepetl or as in English as 'A Volcano and Mountain Fought' from Nahuas who speak the Central Nahuatl dialect from Atliaca, Guerrero. The story involves Popocatepetl and Iztaccihuatl with a third party member called Amoxtepetl (Book Mountain) in which Popocatepetl and Amoxtepetl fight. You can read in Nahuatl and Spanish here:
http://www.sil.org/system/files/reapdata/72/97/19/72971972716626218359572764339281757264/ngu_9927_Un_vocan_y_una_montana_se_perearon_75_016.pdf
As for the famous story that everyone knows is from Spanish artist Jesus Helguera, the same artist who drew in his two iconic, but misrepresentation romanticized native images of Iztaccihuatl and Popocatepetl in paintings La Leyenda de los Volcanes and in La Leyenda, Popocapetl & Ixtaccihuatl
Mexican history is mixed with truth, legends and myths. To try to separate the two is nearly impossible at times, but easy in this case.


The wise people/men: a light, a torch, a stout torch that does not smoke
A perforated mirror, a mirror pierced on both sides (tezcatl necuc xapo).
His/Her are the black and red ink, his/her are the illustrated manuscripts, he/she studies the illustrated manuscripts.
He/she himself/herself is writing and wisdom.
He/She is the path, the true way for others.
He/She directs people and things; he/she is a guide in human affairs.
The wise people/man is careful and preserves tradition.
His/Her is the handed-down wisdom; he/she teaches it; he/she follows the path of truth.
Teacher of the truth, he/she never ceases to admonish.
He/She makes wise the countenances of others; to them he/she gives a face; he/she leads them to develop it / teixtlamachtiani, teixcuitiani, teixtomani.
He/She opens their ears; he/she enlightens them.
He/She is the teacher of guides; he/She shows them their path.
One depends upon him/her.
He/She puts a mirror before others (tetezcaviani); he/she makes them prudent, cautious; he/she causes a face to appear in them.
He/She attends to things; he/she regulates their path, he/she arranges and commands.
He/she applies his/her light to the world.
He/She knows what is above us and in the region of the dead.
He/She is a serious person/man.
Everyone is comforted by him/her, corrected, taught.
Thanks to him/her people humanize their will and receive a strict education / Itech netlacaneco.
He/She comforts the heart, he/she comforts the people, he/she helps, gives remedies, heals everyone.

But right after that, it also warn us of false wise people/men:

The false wise people/man, like an ignorant physician, a person/man without understanding, claims to know about God.
He/She has his/her own traditions and keeps them secretly.
He/She is a boaster, vanity is his/her.
He/She makes things complicated; he/she brags and exaggerates.
He/she is a river, a rocky hill.
A lover of darkness and corners, a mysterious wizard, a magician, a witch doctor, a public thief, he/she takes things.
A sorcerer, a destroyer of faces.
He/she leads the people astray; he/she causes others to lose their faces.
He/she hides things, he/she makes them difficult.
He/she entangles them with difficulties; he/she destroys them; he/she causes the people to perish; he/she mysteriously puts an end to everything (tlanahualpoloa).
In the Codice Matritense de la Real Academia, those Nahuas who were able to write decided to write an important passage about good elders (please note, Nahuatl pronouns are gender neutral so I will keep it as the translation as much as possible. Words that could be open to interpretation will have their Nahuatl word next to them.).
Excerpt from Looking for Tiahui that was presented at the Nahuatl Conference at UCSD on April 4th, 2015.
While being in my teens, I heard many people used "Mexica Tiahui". I wondered who taught it because no one said any of the danza groups that influenced the Chicano movement. I couldn't find them in the dictionary. My curiosity and interest of where it came from almost became an obsession on knowing the answer.
I would ask and people would say they got it from someone from Southern California that they learned the phrase from.
Eventually, I would move to Southern California. Other than education, it was also a step closer to finding an answer to my question. I met Lupe Lopez and she finally gave me a better response than the typical answer of getting it from someone else. I met David Vazquez. After asking questions, I would later discover that there is a part of history that people seem to leave out though it's recent history.
I spent a long time trying to find out the origin of where everyone got Mexica Tiahui and Tlazokamatli and going person to person until I met David Vazquez who is a native Nahuatl speaker who taught those popular phrases to Chicanos. Oddly, the two phrases have been corrupted especially since Mexica Tiahui should be either "Tiahue Mexica" (Mexica let's go) or "Tayecana Mexica" (Mexica Forward). Tlazokamatli is saying thanks to someone who isn't there. Tazocamatic is giving a direct thanks.
On where "Tiahui" was introduced to Chicanos and spreaded everywhere, based on the story David Vasquez gave me, he was teaching a group of Chicanos, some being in danza circles which were learning and asking him question. One person (he doesn't quite remember who) was trying to have an empowering phrase in Nahuatl. It was suppose to be Tayecana Mexica & Tiahue Mexica, but it seems whoever was at the meeting, someone mixed the interpretation along with grammatically how to say it and thus caused confusion among the masses from that point on.
This is from a fluent Nahuatl native man. And I/we have spoken to a few other fluent Nahuatl speakers who do use the term or heard of it, or used Teyecana. Therefore we are native students learning from native speakers to has a stronger and closer connection to where we get our information from.
A good example on how to use tiahue would be "Tiahue cuitihue in tlacual" (translates to "Let's get some food").
To hear the correct way of saying Tiahue, I recommend checking out the link below being pronounced by a native speaker:
http://www.mexicolore.co.uk/aztecs/language/pronunciation/T
Also on that link, they mention the song Tiahue intekitzintli (translation means "(We) Let's get to work") from a Nahuatl speaking community of San Isidro Buensuceso.
As the world gets connected with itself misinformation can easily be spread.
http://www.inah.gob.mx/boletin/7-zonas-arqueologicas/7647-confirman-alineaciones-arqueoastronomicas-de-templos-de-xochimilco
From the architectural survey using a laser scanner on the Franciscan church of San Bernardino of Siena in Xochimilco, dating from the 16th century, specialists fromINAH generated a methodology confirmed the hypothesis that the building built over a teocalli (temple) kept the prehispanic alignment to the Iztaccihuatl volcano.
The work led to a spot measurement of the alignment, which supports the hypothesis that the sixteenth century Catholic churches were built on ancient ceremonial buildings of the main peoples of Mesoamerica, facing the most prominent mountains aligning with the sun.
With this research, reported by historian and archaeologist Araceli Peralta Flores of the National Coordination of Historical Monuments of INAH, determined the exact time when the sun is at the top of Iztaccihuatl and allows archaeoastronomical alignment on February 24th at 7:24 with 48 seconds. This alignment also passes near the archaeological site IZ-01 (El Pecho), located in the vicinity of the volcano and was recorded by investigator Arturo Montero.
Araceli Peralta noted that among the first measurements that have been made include the archaeologist Ivan Sprajc, who notes that the sun rises behind the Iztaccihuatl, whose name means "white woman". There are also records from researcher Rafael Zimbrón who has studied numerous archaeoastronomical alignments in Xochimilco and Milpa Alta.
Archaeologist referred to another alignment found by Zimbrón, corresponding to the Xaltocan mariano church, also built on a teocalli, and located in one of the Xochimilco neighborhoods originating in the volcano Popocatepetl, whose name means "smoking mountain".
The phenomenon occurs on December 21 at 7:34 AM. The sun illuminates part of the temple, where a built prehispanic relief shaped dog's head that works as a solar marker during the winter solstice, and the alignment passes near the archaeological site registered by Montero as PO-02 (Nexpayantla), close to the colossus.
The researcher, who has studied the natural, archaeological, architectural and intangible heritage (traditions, festivals and legends) of Xochimilco, said that knowledge of these ritual dates, referring to the sun for some mountain peak, were indispensable to the ancient inhabitants of Mesoamerica to establish their agricultural and ritual cycles.
The intent of this project, said Araceli Peralta, conducted with funding from the National Science and Technology, was doing the architectural survey with technology in a historical and archaeological context.
He said the use of laser scanner was a great help since they are high-precision, non-invasive, that significantly reduces the time for recording information in a very detailed and accurate manner, and generates a point cloud that allows to build a dimensional model of the scanned surface.
He further explained that with this information can do a structural analysis of the building, which can have many use, and can help with any future restoration project.
The work of architectural survey was conducted earlier this year, in collaboration with the architects Maria Fernanda Lopez, Celedonio Rodriguez, Franco Duran, Apollo Ibarra and surveyor Jorge Alcala & graphic designer Angel Mora Flores.
The results of the survey and analysis were embodied by Apollo Ibarra, with the advice of geographer Sergio Carrasco.
Source:
Source:
http://www.elmundodeorizaba.com/noticias/local/1794281
Students from Universidad Veracruzana Intercultural (UVI), Esteban de la Cruz Flores and Gabriela Citlahua Zepahua, attended UC San Diego, where they were invited to present their experience as Nahuatl speakers.
As a professor from UVI, based Tequila, Carlos Octavio Sandoval, presented the paper called: "Totlahtol itech wehweyi tepemeh Veracruz: tekitl pampa tikchikawaltiskeh se tlahtol yoltok" which translates to "The Nahuatl from the great mountains of Veracruz: rescuing and strengthening of a living language."
This as part of the event "Nahuatl Across Borders", which was organized by the Center for US-Mexican Studies from UC San Diego (UCSD), directed by Melissa Floca.
In the meeting, they discussed the work being done in United States for teaching Nahuatl and to serve the Nahuatl speakers living within the United States.
The students spoke about their experience as Nahuatl speakers in Veracruz, "they told us that schools banned speaking their native language, and they were told that Spanish was superior, but upon entering the UVI, they learned the value of their mother language, for what they consider to be used for four years and not just in two semesters."
The professor commented that there are teachers who forbid their students from speaking Nahuatl, "we talked about the structural factors that are leading the language shift even though a triumphant speech is heard and it seems that it is fashionable to talk about multi-culturalism and indigenous languages".
He said, that in fact, there is still no political will along with no deep and structural changes needed to revitalize the language. "There are no scientific books in Nahuatl". He stressed that the issue for the need for Nahuatl interpreters United States, because there are many speakers who work or live as migrants, and because of mistakes, there have been cases where have had to defend themselves in court, but aren't fully fluent in Spanish or English.
While many of us attended, I think the writer wrote a great piece and I decided to translate it.
http://www.jornada.unam.mx/2015/02/12/estados/030n1est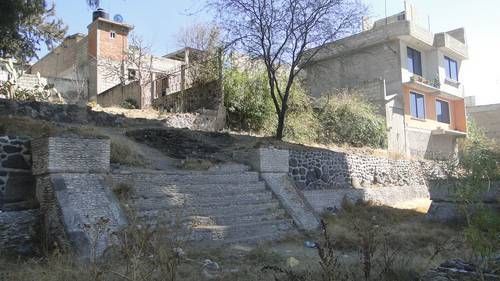 Individuals have built houses on Toltec ruins over Las Zapatas II and Queen Xochitl, which house an altar and religious buildings that are "semi-discovered" without protection from INAH.
Both areas are 1640.42 feet from the archaeological site of Tula, which part of what was the Toltec capital of Tollan. The built houses of two or three stories have caused irreversible damage.
On the archaeological remains, there are concrete pillars supporting the elevated tracks of a freight train that links it to Tula Queretaro. It built in the mid-1970s and at night is a meeting place for homeless and drug addicts.
On the hill of La Malinche, there are no other known archaeological structures, which preserved petroglyphs alluding to the founding of Tula. Despite its importance, some people have invaded the area to build houses.
Moreover, Catholics built a small chapel with a cross on a stone platform.
Fingers are being pointed at each other on who is responsible with many claiming to have their hands tied, mainly the government and INAH.
Source:
http://www.proceso.com.mx/?p=392868
http://www.elfinanciero.com.mx/sociedad/denuncian-homicidio-de-dirigente-triqui.html
At around 7 o'clock, an armed group of 10 people forcibly entered the home of Triqui leader Julian Gonzalez Dominguez who they kidnapped and eventually executed in Santiago Juxtlahuaca. The body of the Triqui leader was then abandoned at the edge of Tlaxiaco-Putla road, near the town of San Isidro.
Ana Velasco Cervantes, member of the State Coordination of RIIO, confirmed that Julian Gonzalez Dominguez was executed by two gunshot fired at his head.
RIIO (International Indigenous Network of Oaxaca) members demanded an investigate.
Many recalled that the Triqui leader of 56 years, originally from Cruz Chiquita, had complained to the authorities that he feared for his life along with two others after alleged threats from Tierra Blanca, who identify with the PRI CNC (Institutional Revolutionary Party - National Peasant Confederation).
The problem worsened in October when a municipal agent Paraje Perez was shot and another person was kidnapped and later found dead in December.
Based on these articles:


The topic of Hernan Cortes is a very sensitive topic. To Mexicans, he represents an outsider who destroyed many things unique with Mexico. Though the upper class Mexicans have been trying to get monuments for Cortes in Mexico since the 1980's, many Mexicans protest the monument erections.

Lopez Portillo, who was president at the time, twice assemble monuments for Cortes back in the 80's. Both times Mexicans protested, but eventually had them installed once things calmed down.

Even in the movie La Otra Conquista (The Other Conquest) when actor Inaki Aierra
was dressed and makeup to look like Cortes, actress Elpidia Carrillo who played Tecuichpo aka Isabel didn't want to look nor want to talk, not even eat lunch with him in that make up even though it's make believe.

Other than the upper European elite of Mexico having a fascination with Cortes, many non-Mexicans (mostly Americans and Europeans) as well. To be honest, I don't get. I never understood the fascination.

Even in Spain, he wasn't praise as much. There was tons of lawsuits towards him along with the nation of Spain against him towards his disobeying orders. There was even Dominican friar Bartolome de Las Casas who questioned the conquest and occupation of Mexico. Even after his death, his bones never had a proper burial. His bones lost through history until the 20th century. Many times people attempting to destroy his bones.

Though HBO isn't afraid to show gore like shows like Game of Thrones, the gore for this show is a bit sensitive subject since it's historical gore.

I think the show would work if Cortes is seen either as a neutral character or the villain like they do on Game of Thrones. Displaying him as the hero will only piss people off. Even fellow soldier Bernal Diaz del Castillo didn't depict him as the hero in his accounts.

I would like to see actual Nahuas, Maya and Otomis playing their rightful parts of their ancestors along with speaking their right language though I feel like that simple idea will not be done. Also, not depicting the natives as "dumb superstitious savages" would be a plus though I feel like the myths of the conquest has gotten to non-Mexican's minds as though they are facts.
Though old news, HBO give the green light for Martin Scorsese to create a Cortes series. Benicio del Toro will be executive producer. Though rumors state that del Toro will also play Cortes, no confirmation has been stated. So far, it will be about the entering of the Spanish and fall of the Mexica (Aztecs). No news on how many episodes there will be or when it will air.